October is Breast Cancer Awareness Month! Show your support, help a good cause and look fabulous at the same time, whats not to like? Today I'm going to show some of the makeup available to support this campaign
Bobbi Brown Pink Peony set
this is a nice set of a face blender brush (mini) and BB´s own
Illuminating Bronzing Powder in Pink Peony. Said to give a natural glow using micro pearls. Its a very cute color, and suit most. Get it HERE
Nails inc. Pinky Pink Nail polish
Sparkly and pink. Just what any girl needs! Get it
HERE
Retail is 91,10Dkr
Essie Future Dreams Nail polish
Pale pink, suitable for any occasion. I really like this shade! Get it
HERE
Retail is 76,76Dkr
Estee Lauder Art of Lips Chic Pink Set
Estee Lauder actually launched an entire collection named Evelyn Lauder Dream Collection! You can see the entire range on their
WEBSITE
- there is a ton of amazing stuff!
What I like about this set is the colors- Obviously. I love pink and orange together! The lipstick is very pretty and the double ended lip gloss is begging to be in a purse, while the lip liner is a sure winner to keep makeup in place!
Retail is 30£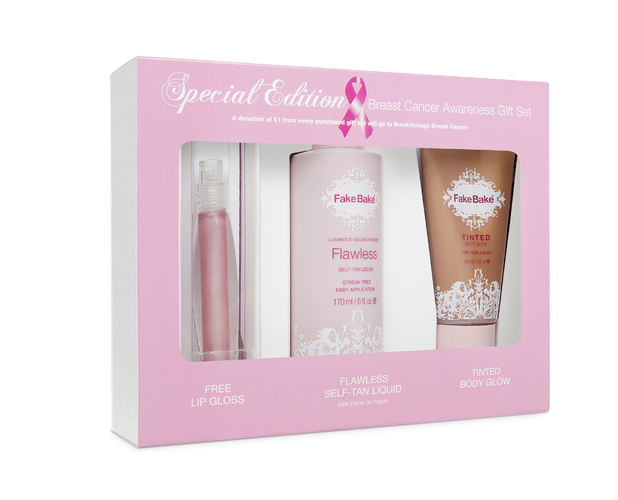 Fake Bake Special Edition Tanning Set
Includes a Babe Tools lip gloss, Flawless Self Tanner and a Tinted Body Glow. You ll save 15£ buying the set compared to the items price separately! Buy it
HERE
Retail is 26,95£
E.l.f Pucker Up Pink Duo
E.l.f is selling this delightful duo of tinted lip balm with SPF 15 and the Nourishing 2-in-1 lip gloss! The gloss is filled with aloe vera, vitamin E and sheabutter! The lip tint is equally neat as we need to protect our lips from the sun even in the winter. I'm getting this! Get it
HERE
Retail is 69Dkr
If you are aware of any other Makeup brands supporting, please let me know!
Fun Fact of the Day: False Eyelashes was invented in 1916 when a producer required a way to enhance the actress eyes in the movie he was working on